Ship building is a key feature of Azur Lane. It is one of the primary ways of acquiring new ships and there are several ships that are exclusive to the Build menu. This menu contains four sections: Build, Orders, Exchange, and Retire.
Players can construct new ships, complete ships in the construction queue, exchange Medals of Honor for ships and items, and retire ships for Oil, Coins, and Medals of Honor.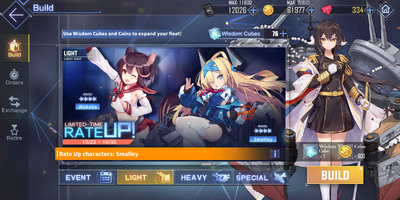 There are three or four options for players to choose from when building new ships. Normally players can only choose from Light, Heavy, and Special, but during Events an Event or Limited Build tab may appear that focuses on specific ships.
Ships may also have Limited-Time Rate Ups as seen in the image on the right. Pressing the I button in the bottom-right will show the Construction Rate percentages. These percentages are listed by rarity and display the chance of pulling a ship from each rarity.
Construction Pool
Ship Types
Cost
Event/Limited

Ship Types are determined by the event


1500x Coins

2x Wisdom Cube
Light

600x Coins

1x Wisdom Cube
Heavy

1500x Coins

2x Wisdom Cube
Special

1500x Coins

2x Wisdom Cube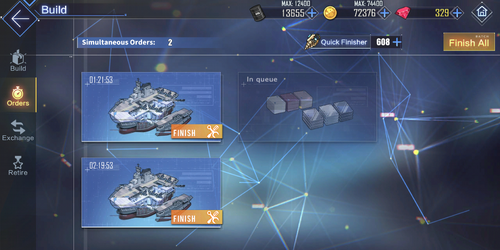 The ships being built and the ships in the build queue can be seen in the Orders menu. Two ships can built at a time and up to eight ships can placed in the build queue, for a total of 10 ships. Quick Finisher Drills (

) can be used to complete the construction immediately or simply wait for the timer to finish. When the timer ends the ship is built and it can be collected. The game will automatically start building the next ship in the queue when the current ship finishes building .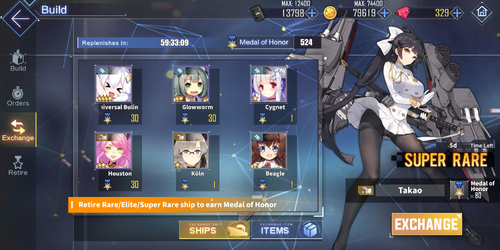 The ship building menu also has two more features attached to it. The first is Exchange, this allows players to exchange Medals of Honor (

) for specific ships and several different items. The available ships for exchange are refreshed every three days and the list of items is refreshed every 24 hours.
In addition, there is a Super Rare ship available to purchase with Medals of Honor. This ship is shown on the right side of the screen and is refreshed every 15 days.
The final option on the Build screen is the Retire button. The Retire option allows players to select ships they no longer need or want, and to exchange them for

,
, and

.
Pressing the Retire button will bring a list of unlocked ships the player owns. Up to 10 ships can be selected. Once the player presses "Confirm" the ships will be removed from their inventory and Oil and Coins will be received, along with any Medals of Honor. See the table below for the ship to Medal of Honor exchange rate:
Exchange Rate
Ship Rarity
Medals of Honor
Common
0
Rare
1
Elite
4
Super Rare
10
Community content is available under
CC-BY-SA
unless otherwise noted.