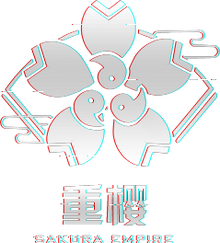 The Sakura Empire is a nation based on the Imperial Japanese navy.
Unlike the Eagle Union or the Royal Navy, the Sakura Empire has very few ships that can be built by ship building. However as most of the chapters enemy ships and bosses belong to the Sakura Empire, almost the entire Sakura Empire fleet can only be obtained as drops.
As a fleet they have some powerful torpedo focused ships. Their destroyers have very high torpedo stats and Yudachi has incredibly powerful burst damage in part due to it. While even their Heavy cruisers Takao and Atago get the chance to fire two waves of torpedoes with each launch.
Their larger aircraft carriers also have a special based on their historic carrier division at the end of 1941. As such pairing Akagi with Kaga or Souryuu with Hiryuu they get a powerful offence buff.
Due to these features, using a full Sakura Empire fleet can be difficult but rewarding.
Sakura Empire Ships
Destroyer
Common
Shiranui, Mutsuki, Kisaragi, Minazuki, Mikazuki, Uzuki

Rare

Akatsuki, Arashio, Ariake, Asashio, Fumizuki, Kagerou, Inazuma, Ikazuchi, Isokaze, Hamakaze, Hatakaze, Hatsuharu, Hatsushimo, Kamikaze, Kiyonami, Kuroshio, Matsukaze, Michishio, Nagatsuki, Ooshio, Oyashio, Shiratsuyu, Tanikaze, Urakaze, Uranami, Yuugure, Wakaba

Elite

Ayanami, Fubuki, Harutsuki, Hibiki, Kasumi, Makinami, Niizuki, Nowaki, Shigure, Yoizuki

Super Rare

Kawakaze, Yukikaze, Yuudachi
Light Cruiser
Common
Abukuma, Nagara

Rare

Isuzu, Naka, Sendai

Elite

Agano, Jintsuu, Kinu, Mikuma, Mogami, Yuubari

Super Rare

Noshiro
Heavy Cruiser
Common
Furutaka, Kako, Aoba, Kinugasa

Rare

Myoukou, Nachi

Elite

Ashigara

Super Rare

Atago, Choukai, Ibuki, Maya, Takao
Battle Cruiser
Common

Rare

Elite

Haruna, Hiei, Hiei-chan, Kirishima, Kongou,

Super Rare

Amagi
Battleship
Common

Rare

Fusou, Yamashiro, Ise, Hyuuga

Elite

Hiei, Mutsu

Super Rare

Izumo, Kaga (Battleship), Mikasa, Nagato, Suruga
Light Aircraft Carrier
Common

Rare

Hiyou, Junyou, Shouhou

Elite

Houshou, Ryuujou

Super Rare

Ryuuhou
Aircraft Carrier
Common

Rare

Elite

Akagi-chan, Souryuu, Hiryuu

Super Rare

Akagi, Akagi µ, Kaga, Shoukaku, Taihou, Zuikaku
Repair Ship

Super Rare

Akashi
Submarine
Common

Rare

Elite

I-25, I-26, I-56, I-58

Super Rare

I-168, I-19
Community content is available under
CC-BY-SA
unless otherwise noted.