Fleets are groups of players who sail under one banner, similar to a guild or a clan in other games. Currently the benefits of being in one include a private chat room between the fleet members which also includes an automatically updated list of those who join, leave and anytime anyone builds a gold-SR rarity ship through ship building (But not obtained via drop.) as well as a basic profile and information view-able. More benefits and options may be available in the future.
First you need to get to level 11 before you can access the menu. If you are passed that you are greeted by this screen.
You have two options, either the left option to create your own fleet or the right option to join an existing one. If you select to create a fleet you are taken to another screen.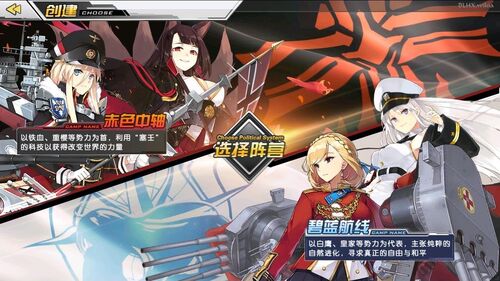 Here you are asked to join a political system, either Crimson Axis or Azur Lane. Once chosen you are asked to confirm as well as pay 300 diamonds in order to create the fleet which you can then name and recruit for.
If you chose to join a fleet you are taken to a menu of fleets which have their name and political icon shown as well as number of members/maximum. You can also search for a specific fleet by entering the ID code for it in the search bar at the top.