Academy Buildings
Edit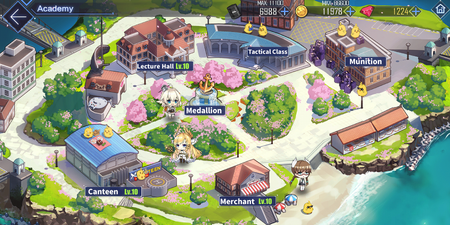 The Academy has six functioning buildings, clockwise from the top.
Lecture Hall
Tactical Class
Munition
Merchant
Canteen
Medallion
Lecture Hall
Edit
The Lecture Hall, enables up to five ships to gain exp similar to the Dorm but with several differences:
The Lecture Hall stores a percent of the exp level 100 ships receive;
This stored exp is given to ships in the Lecture Hall; and
Each lecture lasts 12 hours but can be stopped manually, exp will be given in proportion to the duration of the lecture.
Additionally, there are several restrictions for the Lecture Hall:
Ships in the Dorm or #Tactical Classroom cannot be placed in the Lecture Hall;
The Lecture Hall does not store EXP from exercises;
Ships in the Lecture Hall will slowly lose Morale, ships with low morale cannot be placed in the Lecture Hall; and
Depending on the day of the week, only specific ships types can participate in the Lecture Hall:
| Day | Type | Notes |
| --- | --- | --- |
| Monday | | |
| Tuesday | | |
| Wednesday | | |
| Thursday | | |
| Friday | | |
| Saturday | | |
| Sunday | None | Lecture Hall closed but exp is stored at 2x the normal rate |
Tactical Class
Edit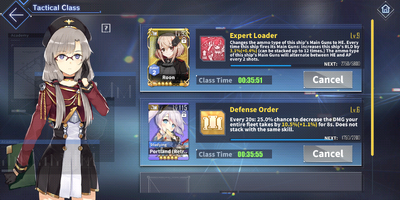 In the Tactical Class players can train shipgirls' skills by spending Skill Books.
There are three types of skill books and three tiers of each. Using a skill book of the same type as the skill gives a bonus 50% toward training.
A shipgirl training a skill in the Tactical Class can still be used in a sortie.
Skill Books
Edit
The three types of Skill Books are:
Each tier gives a different amount of exp
| Icon | EXP | Same Type EXP | Time required |
| --- | --- | --- | --- |
| | 100 | 150 | 2 hours |
| | 300 | 450 | 4 Hours |
| | 800 | 1200 | 8 Hours |
Munition Shop
Edit
The Munition Shop sells specific items for

and

. The shop resets every 6 hours with a selection of 10 items that may have reduced sale price. Both the selection of items and chance of sales is randomly generated. Once purchased the item is grayed out until the shop resets.
The Munition Shop contains up to four tabs at the bottom: the Core, Merit, General, and Event. The Event tab will only appear during events that have an Exchange Shop.
General Shop Edit
The General Shop contains the following items:
Gear Skin Box that contains skins to use on ship weapons or aircraft, sold for .
Tier 1, 2, 3, and 4 equipment boxes of all types sold individually or as a bundle of five, sold for or .
Quick Finisher construction drills and Wisdom Cubes may also appear.
Merit Shop Edit
The Merit Shop sells a variety of items that can be purchased with

acquired by participating in pvp Exercises. The items sold include:
Tier 1, 2, 3, and 4 equipment boxes of all types sold individually or as a bundle of five
Core Exchange Edit
The Core Exchange includes a specific list of items that can only be purchased with Core Data

. Core Data can be earned from completing Hard Mode stages.
The list of items sold in the Core Shop refresh monthly and players will be given advanced warning when items leave the shop. The items currently available are:
Canteen and Merchant
Edit
The Canteen and Merchant are two similar buildings that generate Oil and Gold over time respectively. As you reach certain levels you can pay to increase the shops level to boost it's income and storage cap.
Canteen
Level
1
2
3
4
5
6
7
8
9
Canteen oil generation
60/h
63/h
66/h
69/h
72/h
75/h
78/h
81/h
Canteen storage cap
300
600
900
1200
1500
1800
2100
2400
Fill up time
5h
9.5h
13.6h
17.4h
20.8h
24h
26.9h
29.6h
Merchant
Merchant gold generation
180/h
192/h
204/h
216/h
228/h
240/h
252/h
264/h
Merchant storage cap
900
1800
2800
3800
4800
5800
6800
7900
Fill up time
5h
9.4h
13.7h
17.6h
21h
24.1h
27h
29.9h
Cost to upgrade*
60
300
600
1500
3000
4500
6000
Upgrade cost is the same for both buildings.
Community content is available under
CC-BY-SA
unless otherwise noted.